Are You Experiencing Signs of Peri-Menopause?
We can help you transition through peri-menopause/ menopause more comfortably!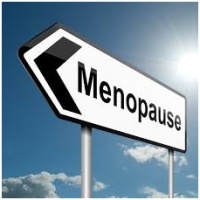 Do you feel overwhelmed, restless, anxious, depressed, irritated, cry for no obvious reason or feel like you lost your coping skills for life? Do you experience sleepless nights or forgot where you parked your car?
Welcome to this website. You are not alone.
Peri-menopause and menopause can be a time of huge change and transitions for many women. For some women the transition is gradual for others it literally hits overnight. Many signs and symptoms of peri-menopause and menopause can be quite uncomfortable and challenging. Besides the physical discomfort of hot flashes, night sweats, fatigue and headaches, the emotional ups and downs can be very hard to cope with. There are a few lucky women who go through this time with little or no discomfort. Chances are that you made it to this site because you or someone you care about is affected by the hormonal fluctuations that are typical for this time in a woman's life. For most women, this occurs in their mid to late 40ties. It is a time in life where women need support and know they are not alone.
Similar to puberty, when entering peri-menopause, the body is preparing for a new phase in life. The hormone fluctuations that are typical for this time in a woman's life quite often amplify the emotions. Peri-menopause is frequently a time to reevaluate one's life. Interestingly, for many women this time coincides with their children becoming very independent or even getting ready to go off to college. Up until then many women have dedicated their time and love to the needs of the family and/or career with little or no thoughts about what is important to them. As they are entering peri-menopause, they may begin feeling 'lost' – a feeling which is exaggerated by the hormones. Even the thought of losing their youthfulness can be quite unsettling for some women.
Most mainstream medicine focuses on managing the symptoms of peri-menopause and menopause alone with little or no attention to the emotional aspects. At Hypnosis for Wellbeing, we help women transition more smoothly through the emotional ups and downs of perimenopause utilizing Advanced Hypnosis, EFT, TRE and Emotional Clearing Techniques. Even some of the physical symptoms can be alleviated by addressing the emotional aspects more specifically.*
For more information on how Hypnosis for Wellbeing might help you brighten the transition of peri-menopause or menopause, please call us at 650-996-9911.
*Your health and wellbeing are important to us. Hypnosis or EFT are not a substitute for personal and medical attention or diagnosis. Please consult with your family's health provider or physician if you are experiencing severe symptoms or are concerned about your health.